September 5, 2017 POP ART PUZZLES ARE FUN ANYWHERE FOR ALL AGES! 
JIGSAW PUZZLES CAN CONTRIBUTE TO BRAIN HEALTH!  
A puzzle makes a great year-round gift! You can choose one of the already designed puzzles or you can choose a photo from Christopher Zambri's Placement Pop Art collection. The 30 piece puzzle is perfect for beginning puzzlers and the 110 piece puzzle can be challenging for more experienced puzzlers. Great activity for home, cottage, classroom, office and waiting rooms! Jigsaw puzzles can contribute to brain health!    
Even though it is a lot of work setting up a shop on the internet and then making revisions and additions, it can be a lot of fun! An example is adding the Puzzles Listing. On the weekend we brought some of Christopher's sample puzzles to a family gathering to get some feedback. It was so much fun to see our son's artwork being used in such a way. The 30 piece puzzles are just right for those who do not do a lot of puzzles. The 110 piece puzzles are definitely challenging! 
When I first received the Clicker 1 jigsaw puzzle I thought it would take maybe a  ½ hour because the clickers were in a grid and I would be able to identify the pieces easily. I wanted to put it together so I could take a photo of it. An hour later, I was still working on it and getting frustrated. But a friend offered to finish it because she is pretty good with puzzles and she was confident she could get it done. She finally finished the puzzle in a couple of hours but commented throughout that "This is challenging!"
Getting back to the weekend gathering, Christopher's cousin Gabriella (8 years old) decided she would tackle a 110 piece puzzle. She wasn't able to finish it because of playing with family members etc. but I think she will be receiving it for a Christmas present! (shhh! That's a secret!)   
 In the meantime, Gabriella and I were able to do some of the puzzle together and chat at the same time. I haven't seen her and her brothers for a very long time so it was great to be able to share this activity as we were getting to know each other. In other words, it was fun!    
Gabriella then came up with a great idea of using the top and bottom parts of the box to make it stand so we could see the photo on the top part of the box. It worked very well so I took a photo of what she had done to share with others because you need to be able to see the photo on the box in order to do the puzzle (unless of course you are an expert puzzler!) [See the collage I have uploaded]  
The only reason I decided to put Christopher's artwork on puzzles was for his benefit since he enjoys puzzles. I watched him carefully to see what photos he seemed to look at (for example, his artwork on mugs we use daily) and I chose a few to make some puzzles. The one that he really liked was the PINK AFRICA photo that is also in the collage with Gabriella's stand.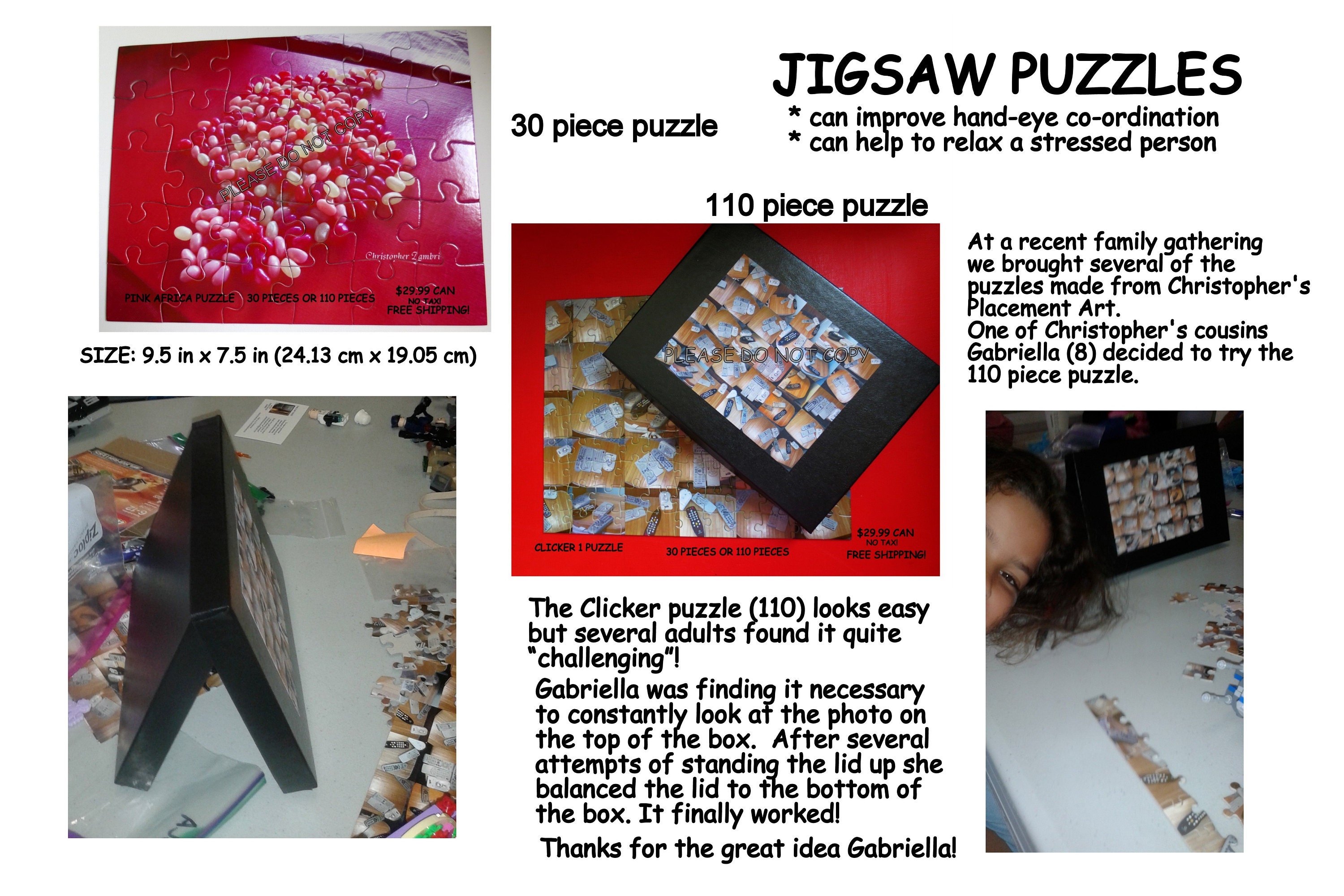 We decided to make more puzzles for Christopher and then thought others might enjoy them so we have just added a new listing for puzzles. We hope you enjoy looking at Christopher's Placement Art in the form of puzzles. -B.Z.